Recently, I attended a lecture and was intrigued when I learned there was an animal that is by all intents and purposes…immortal.  I sought out my bff, Google, and learned there exists such an animal, a species of Jellyfish named Turritopsis Nutricola aka Immortal Jellyfish.  Only 4-5mm in length, what it lacks in size it makes up for in being nothing but pure marine awesomeness!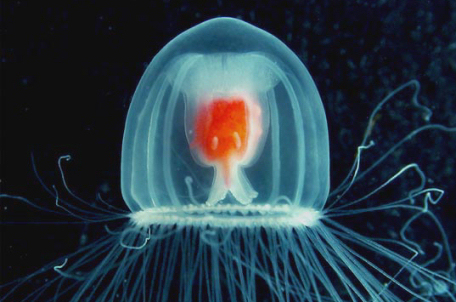 This animal is nothing short of MAGNIFICENT! Why?  Here's why:
What is unique about the immortal jellyfish is that after reproducing sexually, they are able to return to their polyp stage. When most fish die after their sexual maturity, immortal jellyfish get transformed back into a polyp and restart the process of asexual reproduction. In this way, the jellyfish is able to convert itself back into a polyp, start a polyp colony again and give birth to a number of new jellyfish. source
The transformation is made possible via a process called Transdifferentiation:
During transdifferentiation, its cells can become completely transformed. For example, a muscle cell could become a nerve cell – even an egg. The jellyfish then reproduces asexually and breed hundreds of jellyfish that are identical to the original adult. This process can be repeated – again and again…
There is a caveat…the Turritopsis Nutricula can  be killed, ie, by way of disease, predator etc. Have you ever heard of the Turritopsis Nutricola species?  What are your thoughts on it's innate anti-aging process?